Things I like part 1: My new COACH bag!!!!!! ( And matching purse)

I was walking by, after a massage, waiting for BH to come pick me up. He'd decided he needed RPM, I'd decided I needed a massage..so after an hour and a half of being kneaded all over like cookie dough, I still had to wait for BH, who's finish and hour of pedalling/weights but had not showered..

So, whats a woman to do while waiting at a shopping mall? Hmm...million dollar answer..walk about la, window shop. Walked by the Coach outlet at Gardens, saw a whole lotta people inside, when it's normally empty and a whole lotta people outside, queing!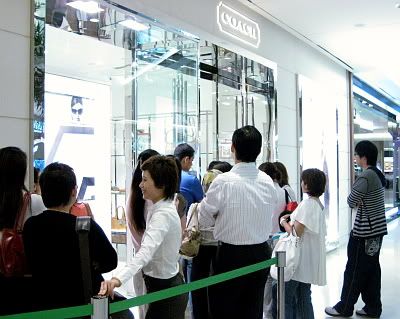 What up? Sale ka? No signs of it, but by the line to get in getting longer and the people inside getting frantic..something was up..peeped in the side window and saw a tiny sign..:CLEARANCE.


Any woman will tell you that when that sign flashes in our heads, the lights go out and a primitive, sublimal gatherer instinct kicks in, with only one thing in our minds....I WANT!!! So, guess who went and joined the queue?


After about 40 minutes of being in the line ( it moved so slowly, because they were controlling the number of poeple in the store), BH was on his way and I was getting tired and really wondering if it were worth the blady effort! But by the time I wanted to get out of the line, It was almost my turn and BH had'nt shown up yet..hehehehe..




BH..stealing a pic from outside, through the window
When I got in, went towards that all so tiny sign..and checked out the stuff..saw one bag that looked lovely..then another..and another..then saw BH's face, peeping through the window..visual communication ensued as to which looked better..and I decided.

Was queuing to pay, which again, was super slow to move, when yet another person popped by the window..Hazrin. ( BH had by now gotten bored and wandered off someplace) Another Visual communication session ensued, which went like this..I imagine two jokers, mouthing the following conversation:


Haz: What's up?
Me: Sale
Haz: How much off?
Me: 30 %
Haz: Only?



Then he mouths for me to call him, after which..the conversation that ensued was as follows:


Haz: What's up?
Me: Sale
Haz: How much off?
Me: 30 %
Haz: Only?



Yea, funny guy, this Hazrin. Oh, he's also the genius who coined "shanticombat"..so..


And so, people, this kid walked out, and hour plus later, made BH wait for her, all hungry and all for this...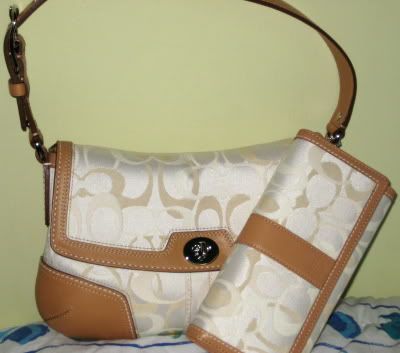 Dinner was on me when Bh found out how much they costs...at least the dinner cheered him up a bit. the way to a man's heart truly is through his stomach,heh.

And yeah, will be on a bread diet the rest of the month..