Why Haven't I been blogging? Been too busy taking care of the baby, yep, you heard it right, THE baby..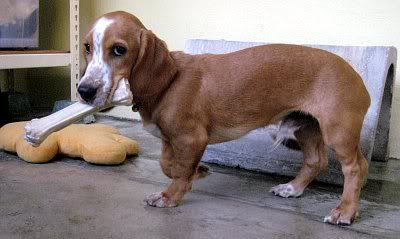 Doesn't he just look soooo cute, with his bone in his mouth?


My parents, suffering from chronic empty nest syndrome, decided to do something about it. They decided to leave us at home and fly far,far away..on holiday. Which means, BH and I are left with the task of taking care of the house AND the dogs..


If you think he looks sooo darn cute and innocent, think again. These days, we don't need an alarm to wake us up. Before the crack of dawn, like a crowing rooster, Ed, howls..



Why? Just because he can,just because every time he does it with mum, she comes out to play with him.



So these days, he gets sleepy, bleary eyed me, dragging my sorry ass ( that just wants to plop back in bed), to the back yard, to clean his "business" and his mess and feed him and play with him and oh..wash the place. Not that I'm complaining,heh. Oh, and his mess (smelly, wei)..the boy tears up the papers almost every time...dunno if it's because he's upset with the news and what not, or again, just because..and did I mention that we have to rush back home right after work to feed him?



Jackie on the other hand, good little doggie that she is, doesn't mess up anything, eats without having to play fetch first and basically just IS..she's missing her playmate, my mum, terribly though, cos she keeps looking for her. The only time we get any emotion from her, is when Ed, tries to take her treat or bone..ooo..all hell breaks lose, with Ed, running, cowering behind us and yelping in fear..heh..silly boy, he still does it every once in a while, hasn't quite learnt his lesson. Don't mess with Jackie's stuff!!!

THE baby with "ball"..we taught him how to fetch it on command, he can identify "ball" and retrieve it, but still has issues on giving it up..

Ed, with his bone..and a look that says it all..I dare you to take it from me..come la, I dare you..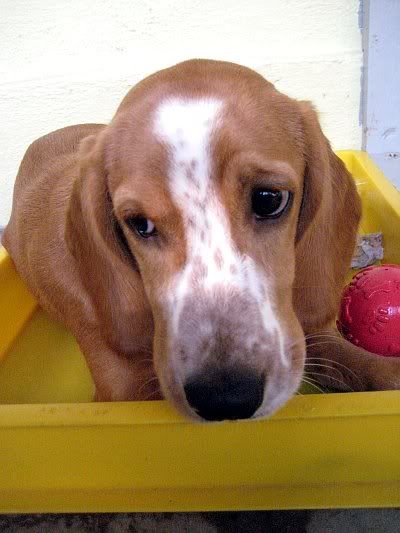 Cute? Hmm...until he sees other dogs..not a friendly pooch, this one.
And that's, what we've been up to..